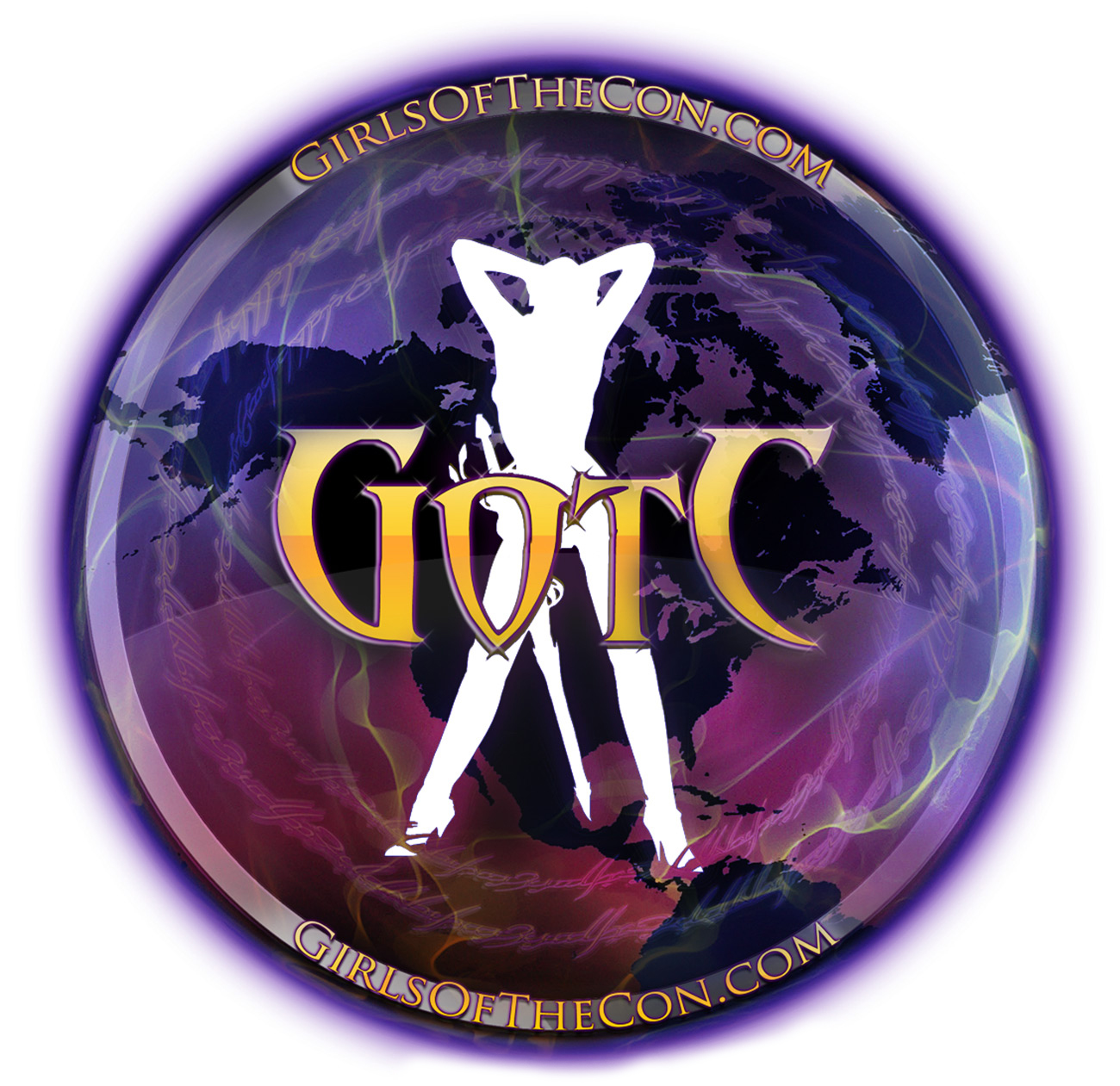 Our Objective:
Girls of the Con, GOTC, was founded out of a desire to share the amazing talent and artistry of fandom based conventions and their attendees with those who might never take the time to look otherwise. And to those within that community of fans, performers, and artists we hope to foster a mutual appreciation and respect for fellow con goers and to maintain a sense of equality and belonging through the celebration of the arts it showcases and supports. Not only costuming and cosplay, but the art of bringing fantasy to life. Flesh meets fantasy is our motto. Where the imagination meets the real world. We strive to maintain a family friendly organization and create an open environment supportive of the con community we call home. We never discriminate or allow others to be discriminated against participation based on age, sex, race, or body type, or skill level. We don't tolerate hatred or negativity of any kind when it comes to our community. Living by the simple rule "Be nice or be gone".

A Brief History:
Girls of the Con was conceived in 2007 but remained unborn until 2009. It all started when co-founders Traci Tant and Jason L. Bohannon ended up sharing a room together with a mutual friend at the Dragon Con 2007 convention. Their mutual friend took ill the first night and had to go home for the remainder of the con. Traci, a veteran of the convention, took Jason (a newbie) under her knowledgeable wing and on a whirlwind tour of the convention and a great friendship was struck. It proved to be a life changing event. Something he had never experienced in the fandom universe. Jason a fledgling artist, designer, and photographer at the time was quickly enchanted with the con culture and knew that once the convention came to an end there had to be a way to keep the fantasy alive, a way to show others a gateway into the world he'd just recently come to know and love. It was through that notion that Girls of the Con was born.

Traci and Jason parted ways after the con but kept in touch for a while, bouncing emails and texts back and forth to one another in hopes of putting together what was originally conceived as a quarterly magazine to showcase various cosplayers and artists reached through local conventions. A small blog site was built and a few cosplayers stepped up to provide photo galleries and profiles but lacking the ability to effectively travel as much as he'd like, Jason, the primary photographer for Girls of the Con fell off the map for a while and sank back into his regular day job work routine. And his new hobby and passion had to take a back seat. He and Traci remained friends but spoke very little.

Almost two years passed before the creative duo were brought back together. Traci called out of the blue and asked for a meeting. The two met and decided that it was now or never and in order to get the word out and to really showcase the talent that these costumers and cosplayers had to offer they would put together a calendar. A partnership was formed between the two and work began. Being a beginning photographer and designer it was a challenge accepted for Jason and they quickly started forming a vision. A call went out to local models and artists looking to help build and share their vision and creation with the convention crowds. Another year passed and extensive work with costumers and cosplayers who volunteered their time and talent to take part in this newly born project and the first calendar was published.

Since that time Girls of the Con has photographed and produced seven twelve month calendars, played host to numerous calendar release events, themed parties and costume contests, attended and showcased hundreds of conventions and thousands of artists and shared 100,000+ images of their adventures through the fandom convention circuit. They've Marched in parades, packed out Hard Rock Atlanta's Velvet Underground for their 5th anniversary party, Had their images published by such prestigious publishers as Marie Claire UK,  Prestel publishing,  and Cosplayzine.  They have also seen their work embraced by thousands of fans.

THE FOUNDERS:

Traci Tant, who prefers to stay out of the spotlight most times is the diplomatic face of Girls of the Con. She'll often profess that she "Has no talent" but her true talent lies in pulling all the minutia, the tiny details, together. From travel arrangements to event planning and organization. arranging shoot bookings, location scouting, model recruiting, and more. She also actively pursues avenues of promotion with various venues and organizations, as well as provides event coverage when attending cons. She is the beating heart of Girls of the Con to say the very least. Traci is a graduate of the University of Alabama and a season ticket holder who can be found on any given Saturday during the season sporting full Roll Tide regalia. During her yearly travels she visits quite a few conventions to represent and promote Girls of the Con, including her yearly jaunt to San Diego for Comic Con International.

Jason L. Bohannon, is the man behind the lens and behind the screen when it comes to the imagery, style, and brand of GOTC. He started dabbling in photography and graphic design at the age of 15 and has been passionate about it ever since. His personal photography and design portfolio, Soulfuric Studios is a testament to his love for the art of imagery both through photographic and design mediums. His style has flowed from a fusion of comic book inspired art and design mingled with digital photography to Cosplay as fashion vogue style shoots with his models. He always tries to bring a new feel to each successive year in the calendar project and a new twist on an ever evolving style of the cosplay scene that is the very essence of Girls of the Con. When he's not traveling for conventions, shooting with models, or designing for Girls of the Con he's a prolific nature photographer, writer, and fan of all things horror and fantasy related. It's also rumored that he's close friends with Pimp Vader.
TEAM PLAYERS: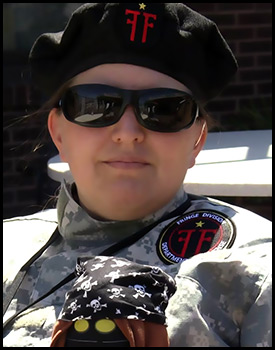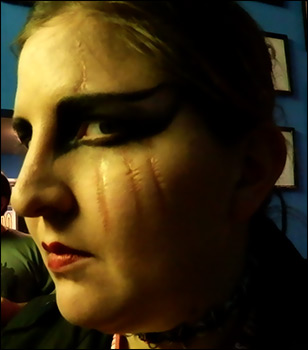 Mary Tabitha Lumsden aka Romulan Sith:
Tabitha has been a great supporter of Girls of the Con from day one. Her tireless promotion at conventions alongside her efforts in helping photograph, organize, and document various events has been an invaluable resource for us. Tabitha is a true fangirl at heart with an above genius level intellect to boot. She is also an avid Godzilla fan who created her very own "Mecha Godzilla" costume for DragonCon. Quirky and fun with her own brand of humor, we are truly lucky to have Tabitha on our team.


GOTC OFFICIAL STYLIST: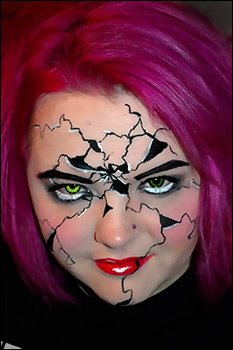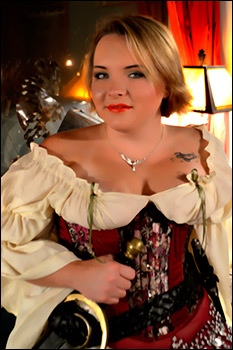 Melanie Discon aka Songbird Styles:
Melanie is a talented hair and makeup artist and licensed cosmetologist. She is the official stylist for Girls of the Con. Melanie has been with the GOTC team since 2013 assisting on various shoots with both hair, makeup, and costume prep. We look forward to seeing more of her work in the coming years. Melanie is a full time stylist that works for herself under the name "Songbird Styles". When she's not hard at work she can be found singing, playing guitar and piano, or hanging out with her toy poodle "Yoshi" and her Torti Cat "Princess Peach" aka "Hime Momo".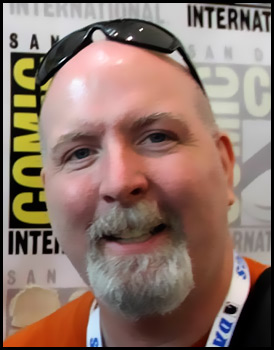 Roaming Photog: Darrin "Dirty D Scoop Dogg" Fesperman
Darrin is our man on the scene. He joined our ranks in 2013 as one of our mandimes, shot our miss January as a guest photographer for the 2016 Anniversary calendar and we've since recruited his talent behind the lens to serve as a contributor to our online galleries. Darrin is based out of Ft. Myers, Florida and attends quite a few conventions each and every year including travel to San Diego Comic Con. When he's not attending cons Darrin enjoys yearly trips to Salem for the festival of witches and throws the best Halloween party on the east coast. If you see him roaming at a con go ahead and get ready to pose and smile, because he's gonna get ya!