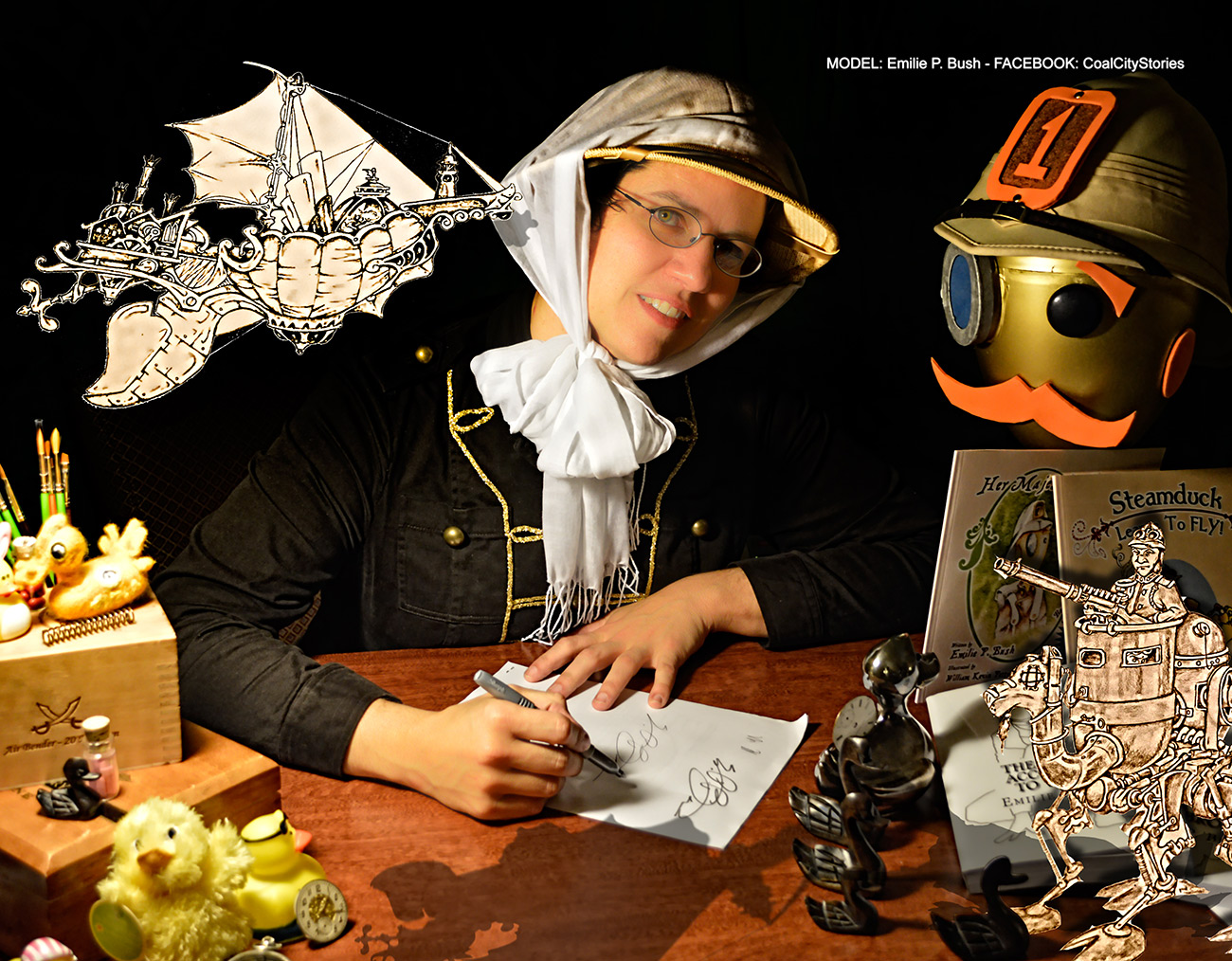 IN HER OWN WORDS: Emilie P. Bush
Emilie P. Bush has been a lover of and creator of great costumes for more than 20 years. Her roots are in historical reenactment, but Steampunk is her favorite genre. "Here, no one can tell you you can't wear that hat with those shoes, 'Because it's not period.' Steampunk has historical roots to some extent, but it's about the worlds that never were and the worlds that collide. Go wild." Emilie creates worlds with words, and wears many hats when it comes to writing. She is a Steampunk novelist, a journalist, children's book author, Editor in Chief for Steampunk Chronicle and a mentor to other writers as the leader of the Gwinnett County Writer's Guild. Her first novel, Chenda and the Airship Brofman, was an Amazon Breakthrough Novel Award Semi-finalist in 2010 and her follow up tale, The Gospel According to Verdu, picks up where Chenda left off – high in the skies and wild with adventure. She is currently writing the final installment in the Brofman series: The Ballad of Jason Belles.
In other works her manuscript, Cryptid, was a 2013 ABNA Quarterfinalist. Emilie's children's book, Her Majesty's Explorer: a Steampunk bedtime story, is the world's first Steampunk picture book, and recently hit #1 on Amazon's Hot New Releases Bestseller List. Her next children's book – Steamduck Learns to FLY! is also an Amazon.comBestseller. Look for Elly Belle in the City of Steam, her third book with illustrator William Kevin Petty, later this year.
Emilie P. Bush lives in Atlanta, where she is a speaker on publishing in the 21st Century.