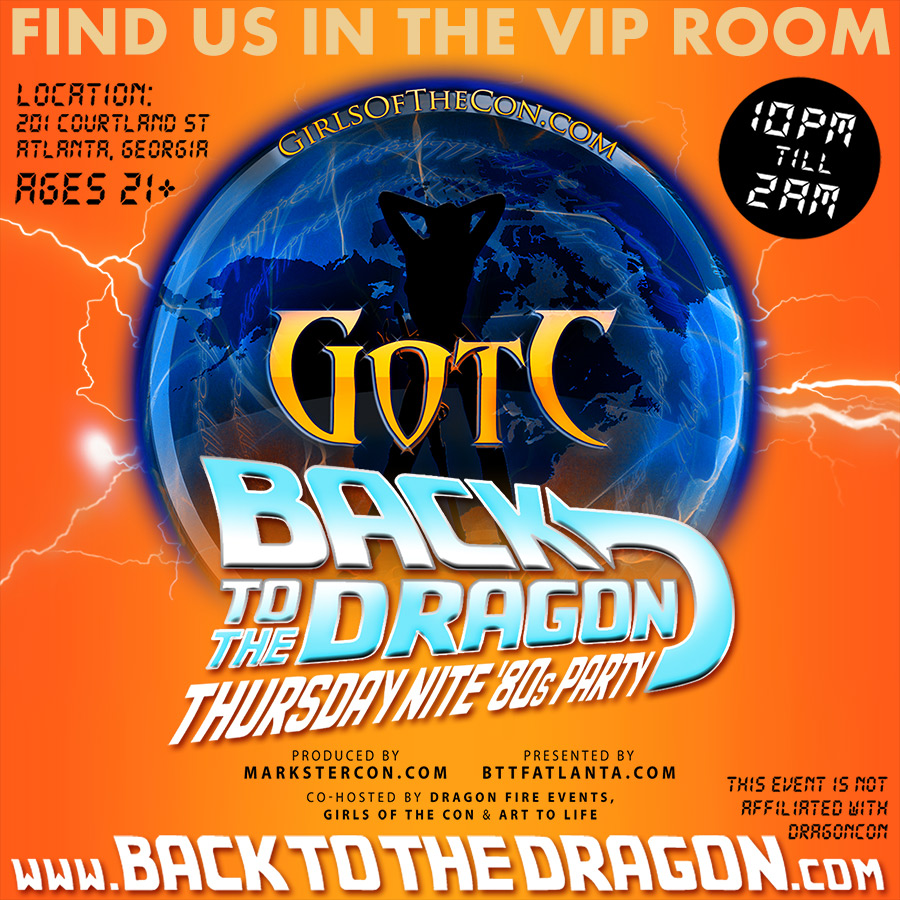 It's official. Girls Of The Con is teaming up with Markster Con for "Back To The Dragon", jump in the DeLorean and come BACK TO THE DRAGON as we kick off the 2015 Labor Day weekend on Thursday night (Sept. 3rd, 2015)…with the biggest '80s party this side of Twin Pines Mall.
Thursday night (Sept. 3rd) after getting checked into your hotel and getting the party started, throw on your best '80s attitude and come out as Atlanta event producer Markster Con kicks-off the 2015 Dragon with the help of Dragon Fire Events, Girls Of The Con and Art To Life.
Hosted at the same venue where "GAME OVER: D*Con's Final Party" took place in 2014 (201 Courtland St. — right across from D*con registration in the Sheraton), this venue is amazing with 3 fully stocked bars, 2 floors, numerous dance areas, a full kitchen, a VIP room and more!
ALSO happening…..
• A dedicated PHOTO ROOM with on-site photography
• 3D scanning/printing with Personify 3D by Barker Technology
• VIP lounge (with private bar)
• 2 DJs
• …more TBA!
$200 COSTUME CONTEST, 2 DJs, live performances in Atlanta's premiere ultra lounge…along with hundreds of your fellow freaks and geeks!
• Produced by Markster Con (www.MarksterCon.com)
• Presented by www.BTTFatlanta.com
• Co-hosted by Dragon Fire Events, Girls Of The Con and Art To Life
More info. to come but for now get BACK TO THE DRAGON down on your D*con party schedule!